Planning a Kids Soccer Party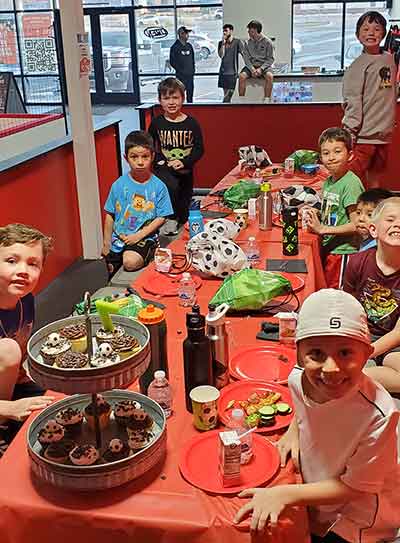 For Birthdays, Team Parties & Special Events
Do you have an upcoming birthday or end-of-season celebration you want to plan for your child or their soccer team? Sharing our soccer party planning experience, this post will guide you through the necessary steps to plan a successful and memorable soccer themed celebration for your child.
6 Steps to a Successful Kids Soccer Party
Step 1: Determining the Size of Your Group
The first step is to make a list of friends you plan to invite to the party so you have an idea of the size of the group you will be hosting. It is a good idea to do this early, about five weeks or so before the event. 
Step 2: Finding a Venue for Your Soccer Party
Once you have an idea of the size, the next item to research is a venue for the party. Can the venue accommodate the entire invitee list? 
Do they have a unique and fun offering for a soccer themed birthday party? Other important items to take into consideration when exploring venues include: length of time allotted, pricing, any included extras such as invites, food, drinks, décor and party favors. 
Once the venue is decided, you may need to make a deposit to reserve the space and secure your spot. 
Are you Planning a Soccer Party in Colorado? 
Consider hosting your soccer party with CORE Soccer Tech as your venue. We have two locations: Ken Caryl and Centennial. We offer special party booking for soccer birthdays, end of year and team events. More about CORE parties.
Step 3: Date Set on to Invitation Preparation
When you have the date and location set, it is time to send out invitations. Sending them out three to four weeks in advance allows the guests enough time to plan for a gift and around other commitments.
Creating Soccer Party Invites
You can create an online invite via a digital card service or opt to go with traditional hand-written invites. These can be customized to reflect the soccer theme. Keep track of the RSVP's so you can accurately account for food, drinks and party favors once the time comes to shop for supplies. 
Step 4: Confirming the Guest List & Soccer Party Favors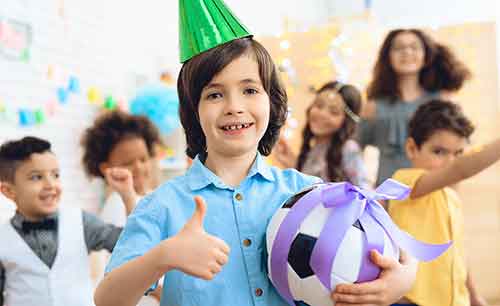 About a week before the event, confirm the guest list and then you can begin to shop for, and compile soccer themes favor bags. 
Favors such as mini-soccer balls, soccer tattoos,  stickers and whistles could be fun options to include.
Don't forget the Dessert!
Also, now is a good time to order the dessert (cake, cupcakes, theme, toppers) and decide on the flavor(s). 
I suggest getting a few samples to test out before deciding on the flavor. You can also purchase plates, napkins, cups and any other décor necessary for the event.
Step 5: Day Before – Finishing Meal Preparations
The day before the party is the optimal time to shop for any necessary food and drinks. If you plan to order hot food such as pizza, that can be done the day of and picked up right before, or during the party to ensure it is as fresh as possible. 
Important: Be sure to make note of any food allergies and adjust the menu accordingly.
Step 6: Party Time!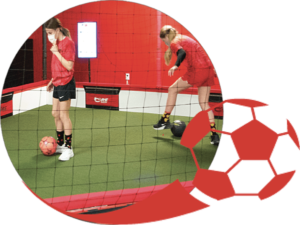 Most venues will allow you to arrive about 30 minutes early to set up the day of the party. Placing favor bags at the table settings is a nice way to keep all the items organized and creates a nice presentation for guests.  Once the party begins, relax, have fun and enjoy all of the planning payoff.
Soccer Activities During the Party
With the excitement of celebration underway, don't forget to have some soccer themed activities planned for the kids during the party too. 
If you book a party at one of Core Soccer Tech's locations the soccer activities take care of themselves as the kids can play the drills in the pods. They improve their soccer skills while having fun and enjoying some friendly competition with the top scores. You can even prepare some special prizes for the top scorers of the party.
However, if you don't have a CORE Soccer Tech nearby there are still great soccer themed activities for the kids. Activities like Soccer Scrimmages, Blindfolded Penalty Kicks(like a pinata), Soccer Bingo, or a Maze of Obstacles the kids need to dribble the soccer ball through.  
Pro Parent Tip: Save the birthday presents for AFTER the party at home. It's more efficient, saving time at the venue which keeps costs lower. It's also a considerate decision for the other kids attending the party.
Want to plan your own soccer party? Head over to the soccer parties page to see what Core Soccer Tech can offer for your next special event. 
---
TL;DR
Start planning your party 5 weeks ahead of time, and begin determining the party size.
Using the party size, find a good soccer themed venue (like CORE) and reserve your location and set the date for the party.
 
Send party invitations, print or digital, 3-4 weeks ahead of your event. Give guests time to RSVP and get your final head count for the party.
Prepare/Order any special desserts, soccer themed party favors and any party bags a week before your event. Use the RSVPs to determine amounts.
Day before preparations, final food preparations before the party. Keep your food freshly prepared for guests.
Last, prepare before the party so you can enjoy more of the planning with your kids.
And if you're in Colorado, don't forget to consider booking your party with CORE Soccer Tech.