Soccer Training Center in Littleton, CO
CORE Soccer Tech - Ken Caryl
Improve Ball Striking, Awareness, Touch, Agility & More!
Our 360° training pods will guide you through a soccer training experience unlike any other. It's competitive, fun and suited for almost any age.
We also reserve team training time, birthday and team parties. Contact us to host your event at CORE.
CORE Soccer Tech – Ken Caryl
11550 W Meadows Dr. Unit G
Littleton, CO 80127
(720) 750-5923
NOW OPEN! The newest locations is off the NE Corner of Simms and Ken Caryl.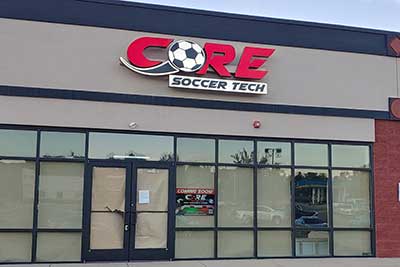 Each of our CORE Soccer Tech locations is equipped with our proprietary 360° training pods. When you reserve a time with CORE you're reserving one of our pods.
Our system is built to improve soccer skills, reflexes, touch, accuracy, awareness, etc. The training system keeps track of EACH players score, so you can compete with your friends and share your best performances on our leaderboard.
Our pods are a great activity for almost any age, kids and adults alike can hone their soccer skills and brag about their high scores at CORE. We welcome all players around our Littleton location, the Ken Caryl, Stoney Creek, Powderhorn communities & more.